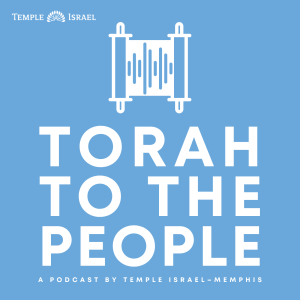 Monday Sep 12, 2022
Torah to the People #8 - Susan Adler Thorp on Rabbi James A. Wax: Righteous Among Men - A Life Dedicated to Social Justice
In this episode of the podcast, Rabbi Jeff Dreifus speaks to Susan Adler Thorp. They speak about the upcoming exhibit at the TI museum about Rabbi James Wax. Expect to learn about the history of the Temple Israel Museum, Judaica's role in memory and community-building, how collecting can be an emotional outlet, and the story of Rabbi Wax and his impact while residing as Rabbi of Temple Israel.
Rabbi Dreifus and Susan Adler Thorp discuss the details of the new exhibit and how it is connected to Rabbi Wax's passion for social justice. They investigate his upbringing in Herculaneum, MO, and how a Methodist Minister inspired him to pursue a Rabbinical career. They also recall Rabbi Wax's courage demonstrated by speaking out against Memphis mayor Henry Loeb the day after Martin Luther King Jr's assassination. Rabbi Wax's visionary leadership put him at the forefront of working towards helping those suffering from mental health problems, having a role in the famous sanitation workers strike in 1968, and stewarding the building of a new Temple in East Memphis.
Thanks for tuning in!
--
Opening song - "Let There Be Love" by Noah Aronson; performed by Temple Israel Cantorial Soloist Happie Hoffman
Find sermons, music, conversations between clergy and special guests, and select Temple Israel University (TIU) classes – easily accessible to you through our podcast, Torah to the People.
Learn more about Temple Israel-Memphis at timemphis.org.
Audio technical support provided by Ajay Cohen.
Comments
(0)
To leave or reply to comments, please download free Podbean or